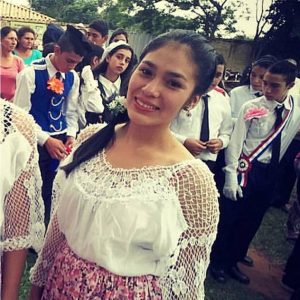 Language: Guaraní (Paraguay)
Contribution: Target Language Speaker and Artist
Dialect Origin: San Pedro, Misiones, Paraguay/Villa Rica, Guairá, Paraguay
Female Character: Pitulí
Age During Recording: 15-20
"Hi, my name is Dulcina del Carmen Urunaga Segobia. I am from San Pedro district of San Miguel, Misiones, Paraguay, but I was born in Iturbe district of Villa Rica, Guairá, Paraguay on July 4th of 2000. I am an adopted daughter. My biological mother's name is Celina Urungaga Segobia and my biological brothers and sisters from her are Walter 24 years old, Alicia 18 years old, Osvaldo 15 years old, Fabiola 8 years old, and me 17 years old. My adopted parents are Armin Sanabria and Liberada Esperanza Vallejos de Sanabria. My brothers and sisters from my adopted parents are Nilfa 33 years old, Pablina 30 years old, and Fatima 25 years old.
I have lived with my adopted parents for 17 years. I go to school at the National High School of San Pedro, Misiones. I am currently in 11th grade. I like football, Paraguayan dance, as well as Computer Programming and Hydro Engineering—two things I would like to study once I finish High School. My favorite food is chicken Bori Bori and Yucca. My favorite colors are purple and fuchsia. I would like to visit the United States because I like English a lot and because I would like to get to know its customs and culture.
My dreams are to finish my two career studies, to find a good job so I can sustain my expenses by myself, have my own house, also to buy a red car, and to form a family and live happily. This is my dream that I know I will achieve with the help of God, my adopted parents who support me in everything, and most importantly through my own will."
"Maitei, che rera Dulcina del Carmen Urunaga Segobia. Che ha'e San Pedrogua tetã'i San Miguel, Misiones, Paraguay ha susu'a jati'i Iturbe tetã'i Villa Ricape, Guairá, Paraguay ha'e ara irundy jasypokõi ary 2000me. Che ha'e memby'anga. Che sy te'e ha'e hera Celina Urungaga Segobia ha che joke'y ha'e Wualter oguereko 24 ary, Alicia 18 ary, Osvaldo 15 ary, Fabiola 8 ary. Che taita anga ha'e Armin Sanabria ha Liberada Esperanza Vallejos de Sanabria. Che joke'y kuera che taitá anga rupi ha'e Nilfa oguereko 33 ary, Pablino 30 ary, ha Fatima 25 ary.
Ojapo 17 ary aiko'ha hendivekuéra che taita umia 17dive. Ha'yijo mbo'ehaope tetãgua San Pedrope agueraha 2do ary mbytegua. Che gusta pelota, ñembosarái, jeroky Paraguay ha che gusta avei informatica ha ingeniería hídrica—ambopaha vove ha'yijo che gusta ha'yijo umi mokõiveva. Che rembi'u ha'useveva ha'e ryguasu Vori Vori ha Mandi'õ. Che sa'y ahaihuva ha'e lila ha rosado pytãngy. Che ahasete poandu tetã Estados Unidospe aikuaa segui ingles ha avei aikuaáse costumbre ha cultura hetãmegua.
Te'e ha avei ajogua hagua petei che mb'ayrumivã pytavã ha auni hagua petei ogaygua ha aiko hagua torypé, pevá ha'e che asoñova che aikuaa ikatuna aguage tupá ñande jara pytyvõ rupi ha taita kuera rupive anga che pytyvova entero mba'epe ha iporãveva che añe ha'a rupi. Ingles ha'e cheve guãra petei tembipuru iporãva ikatuva aiporú añe'ẽhagua che mba'ãpohape meraẽva empresa ojeiporúva che aguarã igentekuéraeheve ha iñe'ere. Che asoña ambopahava umi mokoi ha'yijo, ikatu hagua amba'apo porã, ikatu hagua chejeheguindema ajejoko che rekotevé ha aguerahaka hagua che rogã."